Jamil Byrom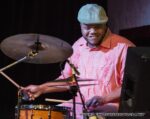 Brief Bio:
Dallas drummer Jamil Byrom was crowned best "undiscovered drummer" at the finals of Guitar Center's 2005 Drum-Off.
He has held down the drum throne at Friendship West Baptist Church for 14 years. Jamil Byrom was nicknamed "Carmel Ice" because of his smooth style on the drums never breaking a sweat. Jamil performed his first professional gig with the Youth Workshop Choir of Dallas under the direction of Kirk Franklin.
Rhythm was born in Jamil Byrom. Constantly feeling & hearing rhythms, Jamil was coached by William Richardson, who helped him to develop a high sense of technique and coordination through the appreciation of different cultures and styles. Gospel, jazz, and R&B seem to command Jamil's attention even though he has studied all genre's receiving a degree in Music Performance from Alcorn State University.
Jamil Byrom has shared the stage with artists such as Roy Hargrove, Kirk Frankln, Kim Burrell, Erykah Badu, Joe McBride, Dave Hollister, LaShawn Pace, Vickie Winnans, Tower of Power, Pieces of Dream, David "Fathead" Newman, Wessell Anderson, Alvin Battiste, Onzy Mathews, N'Damby, Tonya Blunt, The Turtle Creek Choral, and many others.