Lola Batiste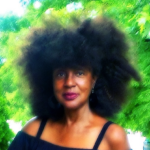 Artist Name:
Lola Batiste
Brief Bio:
Born in Paris, Texas, and later on moving to Dallas Tx, Lola attended St. Anthony Catholic Church where she joined the choir whose pianist had somewhat of a repressed style. Singing the hymns of the church influenced Lola more towards a laid back melancholy vibe.
In 2017 Lola competed in the "Denise Lee Onstage So You Think You Can Cabaret" competition where she won 3rd place with her rendition of Billie Holiday's "Fine and Mellow" which she sang in an upbeat tempo.
She has worked with some of DFW's finest such as jazz vocalist Victor Cager and has been a member of the prestigious Women's Choir of Dallas under the artistic direction of Melinda Imthurn.
In the stage play production of " Reveal (a dream tale with music)" a play directed by the accomplished actor-director and writer Akin Babatunde a play that had its debut at the Kalita Humphrey Theater in Dallas, she portrayed one of three singing dolls that came to life.