Braylon Lacy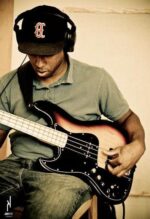 Artist Name:
Braylon Lacy
Brief Bio:
Braylon Lacy can whirl warm tones on the upright and electric bass. His tone is so richly embedded with his families musical and gospel roots as well as jazz inspirations.
Braylon has wowed the globe with an array of artist in all genres artist such as: Wynton Marsalis, Prince, Erykah Badu, Chaka Khan, Roy Ayers, Israel Houghton, Kirk Whalum and the late Wayman Tisdale.
Braylon began playing in the church and has been playing professionally for fifteen years. His formal training began with Dean Hill and continued in his high school years at BTWHSPVA Dallas' Arts Magnet High School. Braylon further studied music at Weatherford College and the University of North Texas.
Braylon has been featured on numerous recordings including the Grammy award winning Hero by Kirk Franklin and Erykah Badu's Mama's Gun.
Featured in Bass Player magazine, Braylon has several endorsements including: Aguliar Amplification, DR Strings and Fender guitars.
Braylon maintains a busy schedule of recording, teaching and touring nationally as well internationally.