Anthony AJ Brown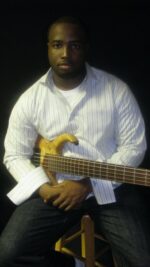 Artist Name:
Anthony AJ Brown
Brief Bio:
Being a multi-talented musician is not an easy task. But acclaimed bass guitarist, Anthony Brown Jr., can tell you that it does yield great reward. From his early adolescent years, Brown knew that being a renowned musician was something that was in his blood. As a child, he began playing drums in his church and soon gravitated toward playing the bass guitar. He began traveling with area singing groups while learning more about the bass guitar from his father, Anthony Brown Sr. In 2003, Brown enrolled at North Carolina Central University where he would take his music and performance knowledge to a higher level.
Anthony Brown graduated in 2008 from North Carolina Central University with a bachelor of arts degree in music performance and a jazz studies concentration. While at NCCU, Anthony performed with the H.B.C.U. All-star Big Band for three consecutive years.At the Villanova Jazz Festival in Philadelphia, he won awards two years in a row for best soloist for 2006 and 2007. Since the advent of his career, Brown has performed with jazz artists Branford Marsalis Joey Calderozzo, Jeff "Tain" Watts, Adam Nussbaum, Jerry Bergonzi, Jimmy Heath, Ed Thigpen, and Terrell Stafford. He has also performed with gospel artists Karen Clark, Angelo and Veronica, Shirley Ceasar, Myron Butler, Fred Hammond, and Israel Houghton and New Breed.
Between traveling and performing, Anthony is a full time bassist at The Potters House Church in Dallas, Texas. In the near future, he plans to continue performing in jazz, gospel, pop and R&B, build a career as a composer, and work on film scoring.