Linny Nance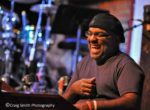 Brief Bio:
LINNY NANCE is…
The youngest of 4 brothers,
He was born into a family rich in music: Trombone, acoustic bass, congas and drums. Taking up piano at 8 years old and trumpet at 11, MUSIC has always given Linny's creativity and passion a way around cerebral palsy.
"I thrive on what differences bring."
Linny began his professional career with Little Joe Blue; Since then, he has shared the stage and/or studio with Universal Music recording artist Lucky Peterson, Yarborough and Peoples, James Ingram (on a Patti LaBelle tour), Grammy nominated Breggett Rideau, blues artist Tutu Jones, Shanachie Entertainment recording artist Pamela Williams,Concord Records Artist Ashleigh Smith, Rendezvous recording artist Tom Braxton, Bernard Wright, Bobby Sparks and a variety of other talented acts. Linny has played all over Europe, Japan, Canada, and the Caribbean: his performance credits include the Montreux Jazz Festival, the Jazzhaus, the Montreal Jazz festival…
Linny stays very busy. He likes it that way.
As a professional musician, Linny Nance works out of his Dallas studio, writing, composing and producing for R&B groups, jazz, rap and gospel artists
Recently, Linny did showcased his talents in "The look of Love" & "Elixir", albums of Shanachie Entertainment recording artist Saxtress Pamela Williams; also in "Darling Forever" JSP recording artist Tamara Peterson's first solo release.
Last but not least, Linny Nance leads his own band, Network.