Len Barnett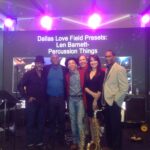 Brief Bio:
Len Barnett began creating sounds with his hands – beating boxes, furniture or whatever he could get his hands on – when he was 13 years old. Since then, he has developed a repertoire of percussional rhythms that include not only jazz, funk, and R&B, but also the styles indigenous to Africa, Brazil, the Caribbean and the Middle East. He invites his audiences to travel on a journey filled with these exotic rhythms.
Len's most recent musical endeavor was the creation of the Modern Cajon Jazz Ensemble, introducing this versatile instrument to local and touring audiences. Len plays a variety of professionally hand-crafted Cajuns as the foundation for concerts featuring percussion-driven jazz, entertaining audiences with new music and standard repertoire re-imagined with percussion inspired arrangements.
Barnett currently serves as staff percussionist for the Brookhaven Community College Dance Department and is blessed to work with the talented musicians and singers on Daystar Television's acclaimed "Celebration" program. Barnett also served as dance percussionist at the famed Booker T. Washington School of the Performing and Visual Arts for eleven years and dance accompanist at Mountain View Community College.
Barnett has performed with such noted musicians as Waymon Tisdale, Roy Ayers, Patti Austin, Gladys Knight, Tom Braxton, Kirk Whalum, Philip Bailey, the Rippingtons, Fingerprints and the late Cab Calloway. He has also performed with such noted dance luminaries as Judith Jamison, Twyla Tharp, Alvin Ailey, Milton Myers and Ron Brown. He has accompanied acclaimed dance organizations including Dallas Black Dance Theatre, Alvin Ailey Summer Intensive Workshop and the Anita N. Martinez Ballet Folklorico. He appeared with Kirk Franklin on the Grammy-winning "Prince of Egypt" gospel CD, and on the platinum "Nu Nation" CD. He also toured with Kirk Franklin and Cece Winans and has toured extensively in Europe and Brazil performing jazz and gospel.
As a passionate believer in Christ, Len dedicates his musical gifts the Source of those gifts, and endeavors to use the to His Glory.